Tips and advice
- April 13, 2022
-
2 min
Find the Right Word, With Search by Criteria
You are probably familiar with Antidote's dictionaries, but are you taking full advantage of them? In this third article in our "Find the right word" series, we introduce you to the power of searching by criteria. Find out how to generate a corpus to inspire or educate yourself, and even how to find a word you have on the tip of your tongue!
SERIES — Find the right word
---
Note — This article presents the use of search by criteria with Antidote 11. To see how to use it with Antidote Mobile, whose interface differs, consult its user guide.
Creating a vocabulary list
When you search by criteria you can create a particular vocabulary list in a few clicks to give your writing more style.
For example, to add a melodic note to your text, use verbs from the field of music. To find them, click on the magnifying glass icon with a +, choose Domain from the criteria, then select music. Add a second criterion with Category, choosing the verb parameter.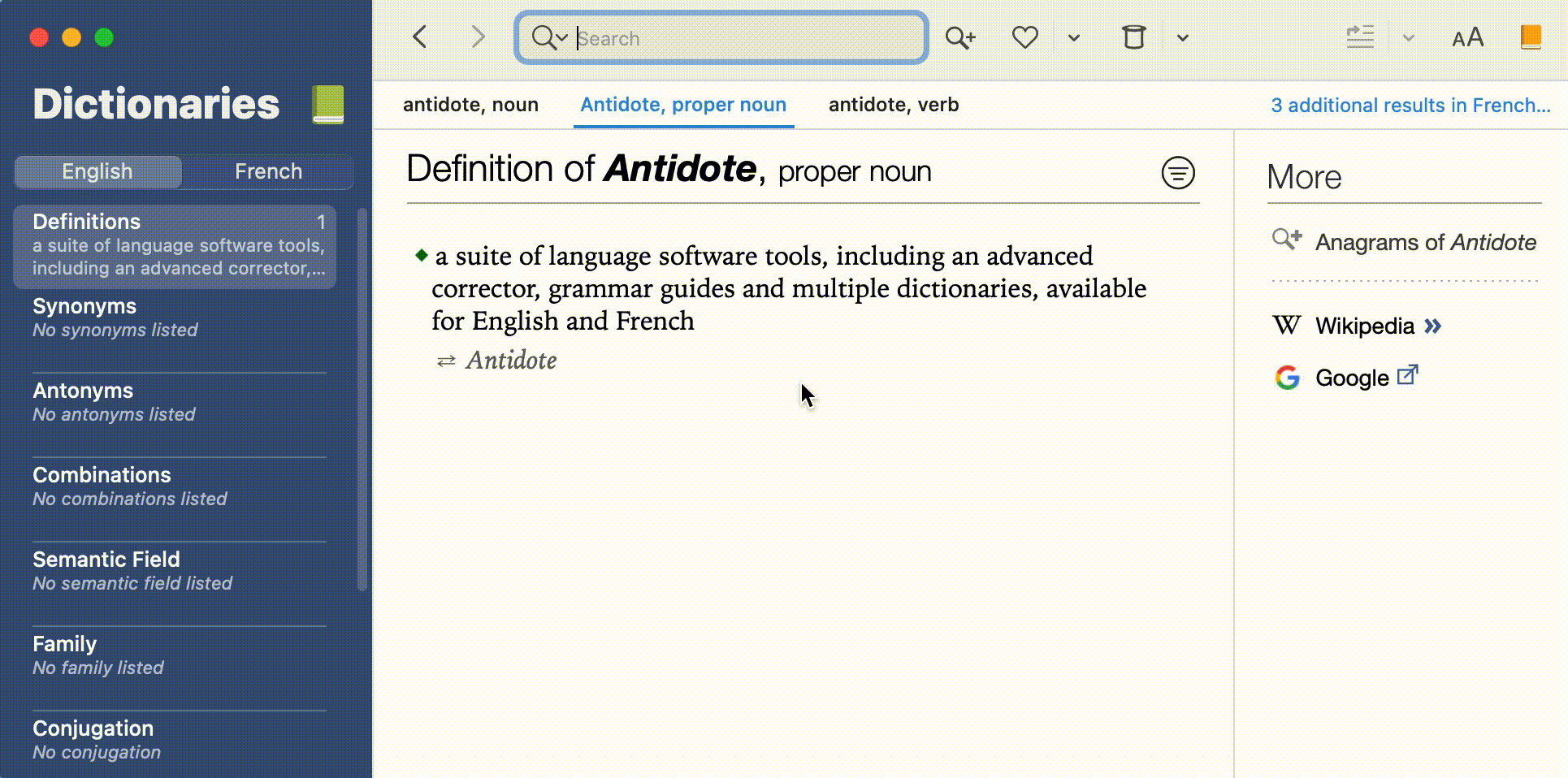 Finding the word on the tip of your tongue
Do you ever find yourself looking for a word that eludes you? Antidote will quickly help you fill your memory gap.
For example, you are trying to remember a word you have heard before to designate an upbeat, lively classical piece of music. You think you remember that it sounded somewhat like schedule. How do you find the right word with these few snippets?
Choose Word from the criteria, the parameter begins with, and enter the first two letters you remember. Add the Definition criterion, and indicate that it must contain "music". Then remove all the proper nouns by clicking on noun in the Categories list in the left column.
Scherzo, that's it! You overheard a stranger at a concert say, "That was a lovely scherzo!" ☺️
Generating a corpus
Antidote's search by criteria allows you to generate word lists like no search engine on the Internet can.
Consider a class project that focuses on the First Nations of Canada. Say you would like to incorporate a vocabulary list of English words of Indigenous origin into the activity. You only need one criterion to generate such a list on Antidote.
You can also combine many criteria and parameters to get results as precise as you want them. Here is an example of the advanced use of the search by criteria that Druide uses to create the Antidote Word Scramble, a language game appreciated by readers of the Montreal Gazette.

By combining criteria related to frequency, register, number of letters and spelling, we manage to create a body of words that is just tough enough for fans of the game.
Have fun!
When it comes to combining the various search modes and criteria, the only limit is that of your imagination or your curiosity. For example, how many different words end in phobia? It's up to you to find out!
Explore the search function in detail in the Searching section of our user guide.
Original publication:

October 7, 2021 - Last update:

April 13, 2022
Visit our Facebook page for more tips and useful functions.